Traditional wood kitchens
The charm and beauty of a natural wood kitchen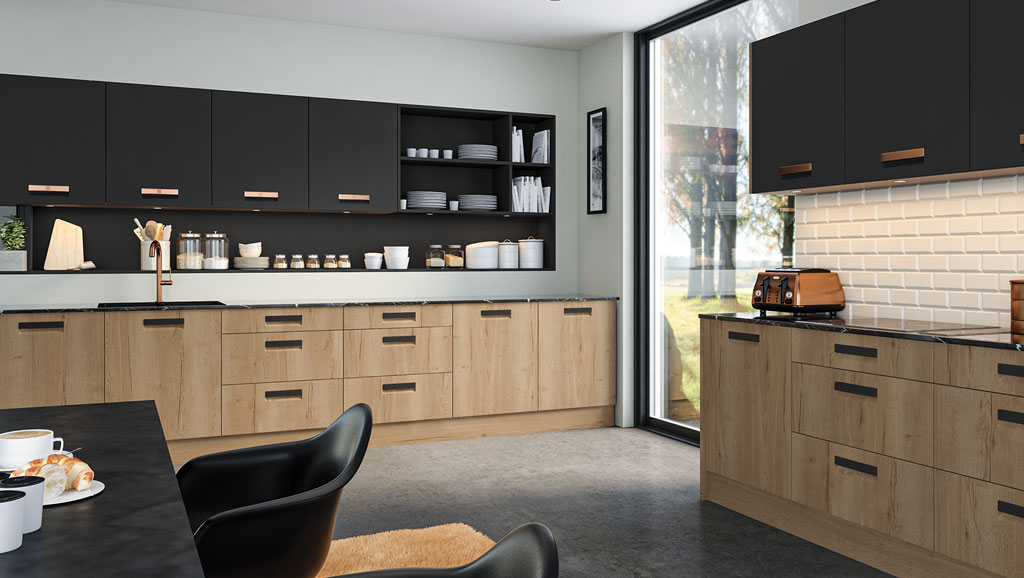 There is nothing like the timeless beauty of a traditional wood kitchen to transform your living space totally. At one time, wood was the only option, and when other materials became fashionable, consumers gravitated away from this lovely natural resource. We're pleased to say it is having a resurgence and we are finding customers are asking about the benefits of different types of wood and wood-grains to give their kitchens a homely and more eco-friendly appeal.
There are many different tones and shades of wood from the dark wood shades to the lighter beech woods and delicate cherry tones. You can use wood in many ways other than cabinets; from adding it can be added as a worktop, or a breakfast bar, to shelving, kitchen islands and butchers blocks plus dozens of accessories.
Designing contemporary wood kitchens
Wood is so versatile it can be paired with a classic or traditional kitchen. We have already described the popular Shaker style kitchens, and their country feel, but there is so much more to designing with wood.
Wood can be paired with all shades of colours and worktops for a truly timeless kitchen. Working with the many different shades and grains available and pairing them with stylish handles or the latest handle-less soft-closing doors to make a statement.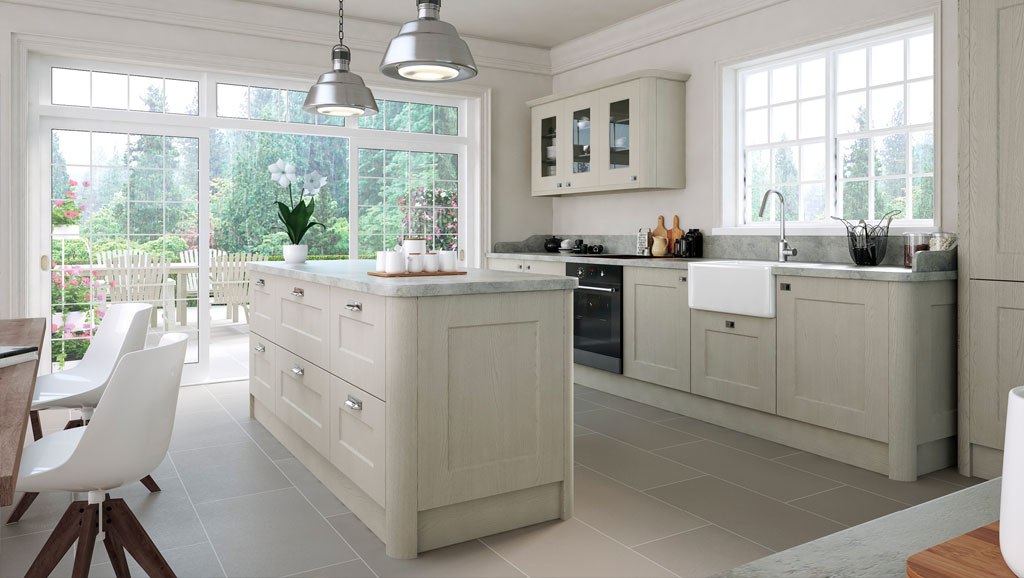 The most popular woods are oak, cherry, pine, ash, maple, birch, larch and walnut. Where you use the wood also matters. Dropping a wine bottle on a granite worktop is sure to shatter it, but wood countertops are soft and much safer. However, they can scratch or crack if not well maintained and need to be finished with a water-resistant lacquer if installing near the sink area.
Add a wooden accent to your kitchen
Dark wood statements, in the form of a dark, almost black walnut, for a breakfast bar or countertop can really finish off a kitchen which as light units.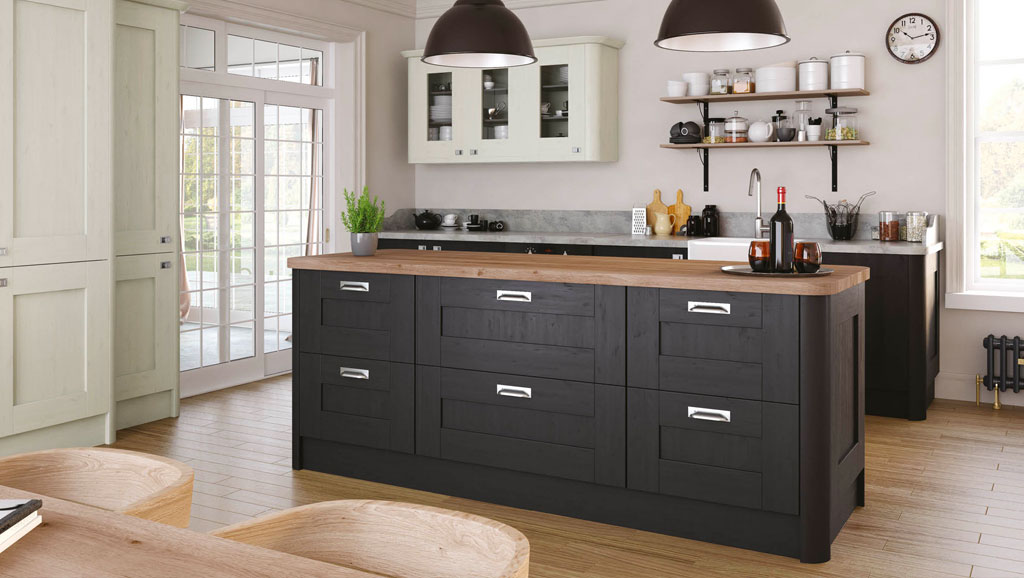 Eco-friendly wood kitchens
The green-building movement is keen to use wood as it is an organic material, and if purchased from a sustainable forest, reduces that carbon footprint of the cost of your kitchen. Ask about FSC-certified wood which means it comes from forests with established replanting programmes.
The FSC certification is not possible with MDF as there is no way to find out the origin of the wood or guarantee its quality.
An added benefit is that there are no volatile organic compounds used as there is in MDF, which is produced from many pieces of wood, bonded with wax, resins and glues.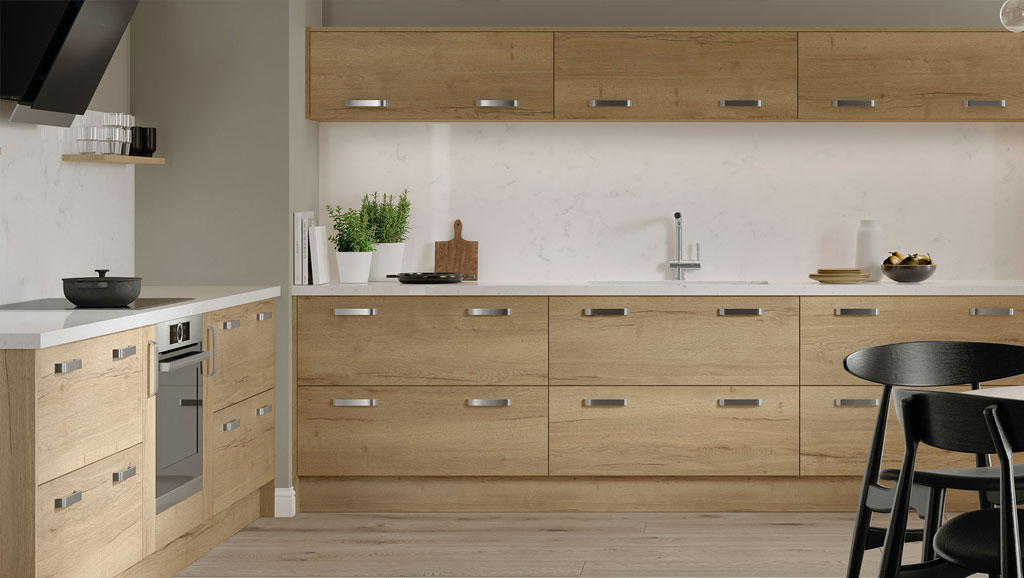 The different woods
Maple is a hard and durable wood and perfect for kitchens. It is fine-textured with a smooth and subtle grain which is enhanced by natural mineral streaks and flecks.
Oak kitchens are a long-lasting investment. Oak is easy to obtain, durable and strong with a good water-resistant quality which gives it added durability. Oak is easy to work with and repair.
Birch is a pale wood with a slightly yellowish hue. It is a very affordable solid-wood ideal for kitchen cabinets and known for its strength, durability and resistance to scratches.
If you are looking for elegance, and darker cabinetry, look for cherry for sophistication and drama.
If you are looking for durability, then Pine is not your first choice as it is less durable than higher-end woods. Pine is a much softer wood and more vulnerable to scratches and dents.
See our page on Shaker kitchen designs or call us on 01323 890079 to discuss your project.