Fitted furniture for home offices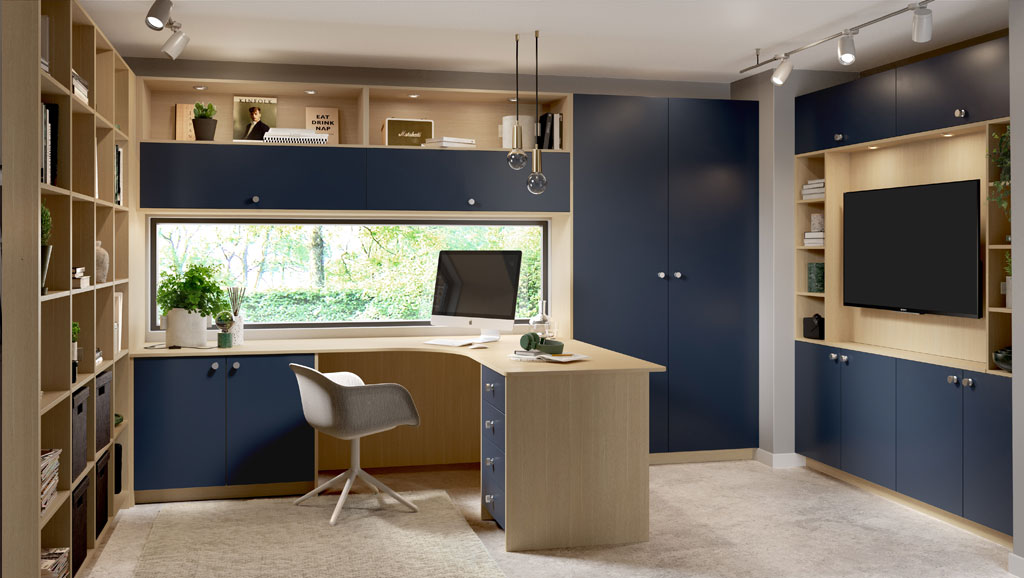 Working from home and having dedicated space for home offices has never been so important. Fitted home office furniture needs to work for the amount of time you are going to be spending in your home office. If you are planning this for the first time, we can help you with the design a home office in your spare room, an outdoor studio, or as an extension to your living room or conservatory. 
As a family business who have been fitting bedrooms and kitchens for over 35 years, we see the trends developing and how the workplace is changing. We will manage the design, manufacture and fully fit the office for you. We will keep you updated all the way and will ensure your new home office is built to impress as well as improve your work-life balance to the max.
Don't be content with working in uncomfortable and difficult spaces in your home. Look for balance and aspire to a better lifestyle for the whole family. We can create a multi-functional office for you within your home environment.
Finding space for home offices
The home is full of distractions, and it can be difficult to focus and divide time between your family and your work. Children, cleaning, and the TV often get in the way of concentration. If you can find a suitable space, away from the distractions and be able to close a door, you will find your day becomes more productive, and you can divide your time sensibly between work and family.
However, finding a separate room is not possible for everyone. Have you thought about using the space below your staircase or using a corner of the dining room? Even parts of a bedroom can be utilised with a desk and some clever storage. Sometimes you just need enough space to store a laptop and some paperwork to make a home office purposeful.
Home office design
Our designer can show you how to use space to the best advantage. We can discuss your needs, take your ideas and produce some illustrations to show you just what can be achieved.
A fitted home office need not be a luxury, and it is always worthwhile utilising the best available space to ensure the design enhances your home. Whether you require a desk and shelving, file storage, bookshelves or a more simplistic layout, we can inspire you with a superb range of colours and quality finishes.
Fitted furniture home office or study
Whether your taste is for contemporary furniture, or if you have a more classical design in mind, we can custom-make your fitted office furniture to your specifications. We offer natural finishes, wood grains and coloured finishes. You can choose from our existing door samples, or we can make them bespoke to your requirements.
If you are looking for the finer details, we can include cable management, adjustable shelving, LED lighting and integrated bespoke storage options. We can create a great place to work with tailormade storage.
Luxury fitted furniture for home offices
Home office furniture can be similar to kitchen styles. A shaker style, with open and closed storage, would certainly have all your storage needs covered.
The luxury of a custom-designed made-to-measure office is that it will be completely unique to you with good quality craftsmanship, smooth fittings and topped off with handles that take the design to a new level.
If you are now running your business from home and meeting clients in a purpose-designed home office, then the aesthetics of your office is essential.
Why not make an appointment to visit our Seaford showroom and let's talk over ideas. We can show you samples of home office doors, and you can browse our designs and find out more about the latest trends. Give us a call on 01323 890079.