Fitted wardrobes & bedroom furniture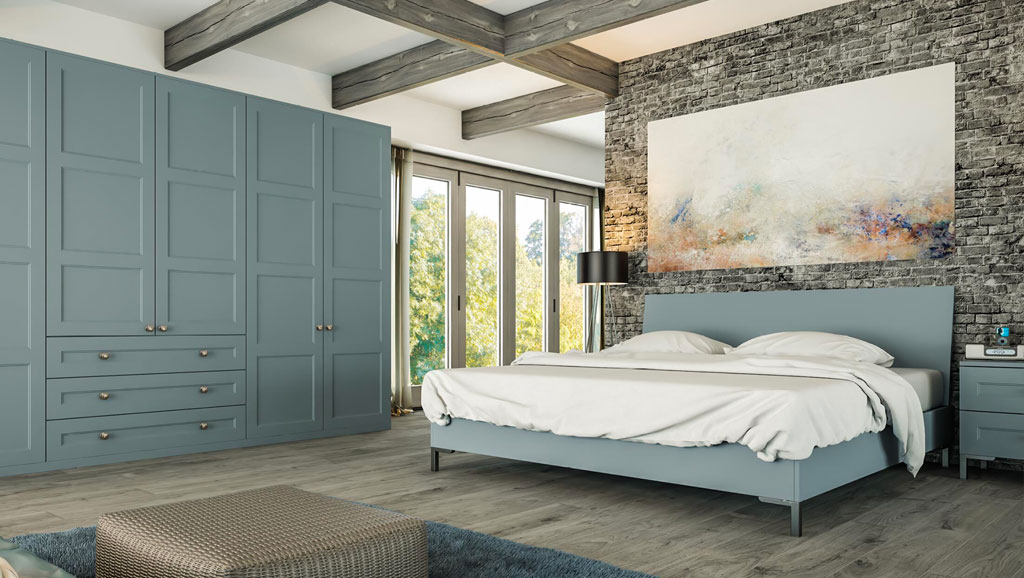 Bedroom furniture and wardrobes designed with style and storage
We design, install and manufacture bedroom furniture and wardrobes packed with storage space for every size of bedroom.
As a family business, we know just how important storage space can be in a bedroom, and most of our homes lack storage space. Well-designed, fitted bedroom furniture, with hinged or sliding wardrobe doors, is an absolute delight, especially when fitted with shelves, rails, racks and drawers to keep your clothes and shoes stacked and well-ordered. We can design a beauty bay for all your make-up, hairdryer and pamper products which can be hidden behind closed doors. Alternatively, you can have glass doors and a featured mirror.
Using mirror doors will increase natural light into the bedroom and produce the effect of a larger room.
We offer bespoke solutions that will use every centimetre of space, and just because they are bespoke, they don't have to cost the earth. We have such a choice of finishes and interiors that they vary right across the price range.
Deciding on a fitted wardrobe
How do you know what to order? How do you plan? Well, believe it or not, you count up your pairs of shoes, coats, jumpers, socks etc. to work out what kind of a storage system would suit you best. If you do have an idea of how many items you have, you will be able to plan the number of drawers, shelves and long/short rails that will be needed.
Should your fitted bedroom go right up to the ceiling? The majority do, but if you have a period property where the ceilings are very high, or you have coving and picture rails, the installations may look best below the room's architecture gems.
The next question is the depth of the wardrobe. The minimum internal wardrobe depth for hanging clothes is 550 mm – an industry standard. Still, with bespoke fitted wardrobes, we can manufacture to any depth our customers require.
Investing in fitted wardrobes
Fitted wardrobes and bedroom furniture, are an investment in your home. You may want to opt for a neutral matt finish, a high gloss, mirrors, or a painted finish. If there is a colour you are looking to match, we can match it exactly. You may prefer a hardwood finish, natural beech or a grey tint.
Your wardrobe doors can be flat or enhanced with panels. They can be discreet and reveal the bed itself to be the main feature or they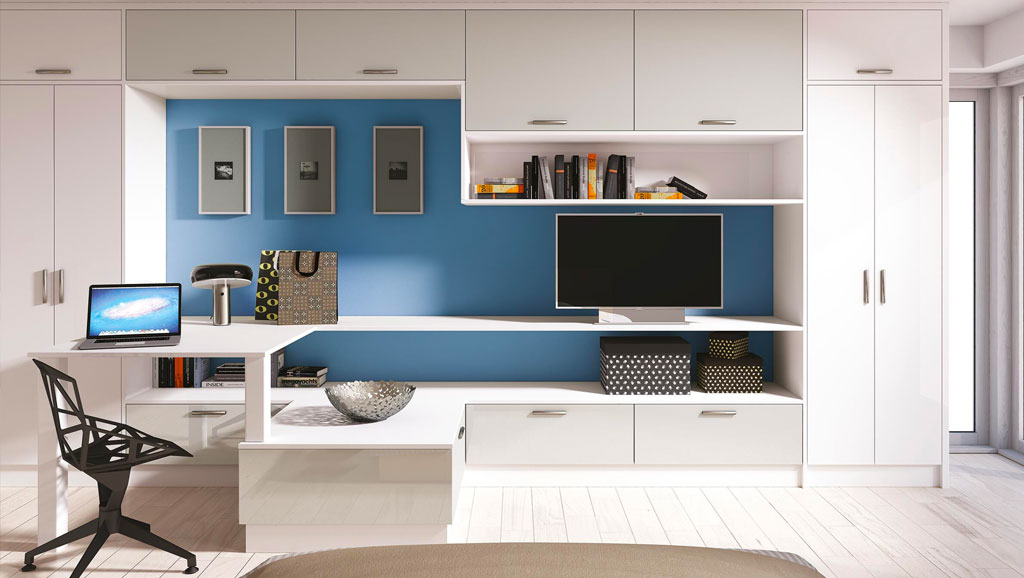 Give some thought to the shape of your bedroom and take advantage of our design service, which can provide more ideas for you to consider. We can build around alcoves and use up space that is wasted; include media space, a fold-out desk for a teenager's study, hide games systems and wide screens. If space is at a premium, consider sliding doors as an added space-saving option.
Our fitted bedroom furniture options can include design, install and manufacture or supply only if you are a property developer or a carpenter yourself.
We provide free, no-obligation quotations and invite you to make an appointment with us, at our Seaford showrooms, so we can show you some examples of doors and finishes and discuss your ideas and requirements.
Take a look at our beautiful kitchens and home office furniture.