Glass splashbacks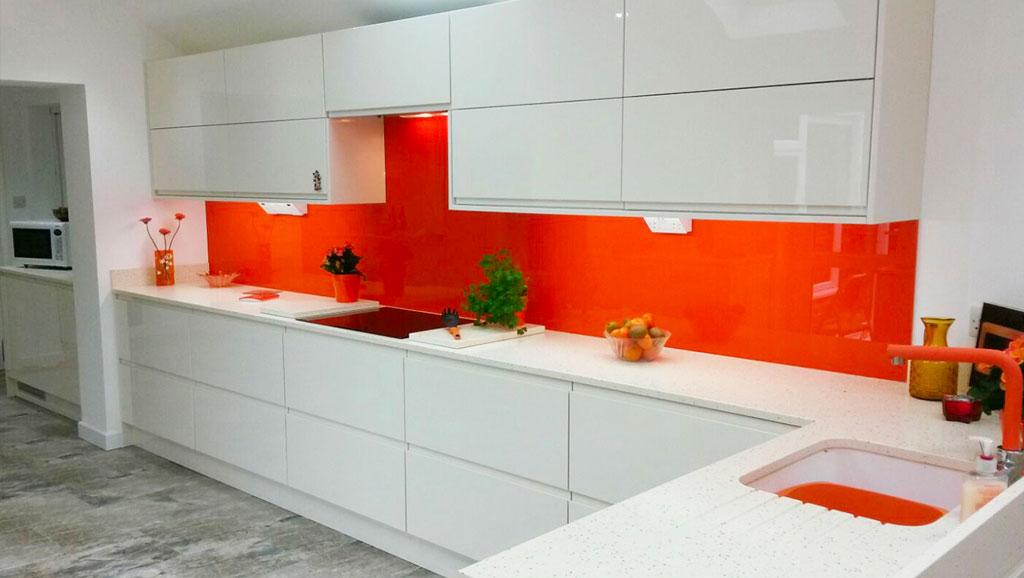 Glass splashbacks are available in a vast range of colours and finishes from solid colours and special effects to digital prints, mirror finishes and gorgeous sparkles. The finished are super hygienic and perfect for long stretches of walls or behind hobs and below extractor fans.
The glass splashbacks are perfect for customers wanted to make a statement in their new kitchen. You can add your own personality to finish your beautiful new kitchen. Standard mirror and coloured splashbacks are the most affordable and cost will depend on if the glass needs to be shaped or require additional cutting.
The toughened mirror and crackle or 'ice-cracked' glass splashbacks come at the top of the range.
The company we use supplies the splashbacks in lengths up to xxxx. They are cut to fit and installed by qualified installers as they need exact fitting and expensive if they are damaged.
Mirrored glass splashbacks
The most popular colour and one which matches exactly with your colour range, is the painted glass splashback, which enhances any kitchen, bathroom or shower area.
The mirrored finish splashbacks are gaining popularity and these come in a range of tints to complement your kitchen style. The toughened mirrors are heat resistant and really add a classy touch to classic and contemporary kitchens.
Digitally printed glass splashbacks
A unique way to personalise your kitchen would be to use a family photograph, holiday shot, city landscape, special event reproduced on your glass splashback. There are endless possibilities and a high-resolution image is all that is needed to give your splashback the wow factor.
A focal point for your kitchen
Large panels work well by themselves and the result can be truly stunning. If you don't have a favourite image in mind, there are literally thousands of high-quality images online to choose from – although the choice can be overwhelming.