Skip to the content
TEL: 01323 890079
DESIGNERS - MANUFACTURERS - INSTALLERS
Gallery

White high gloss with recycled
glass worktops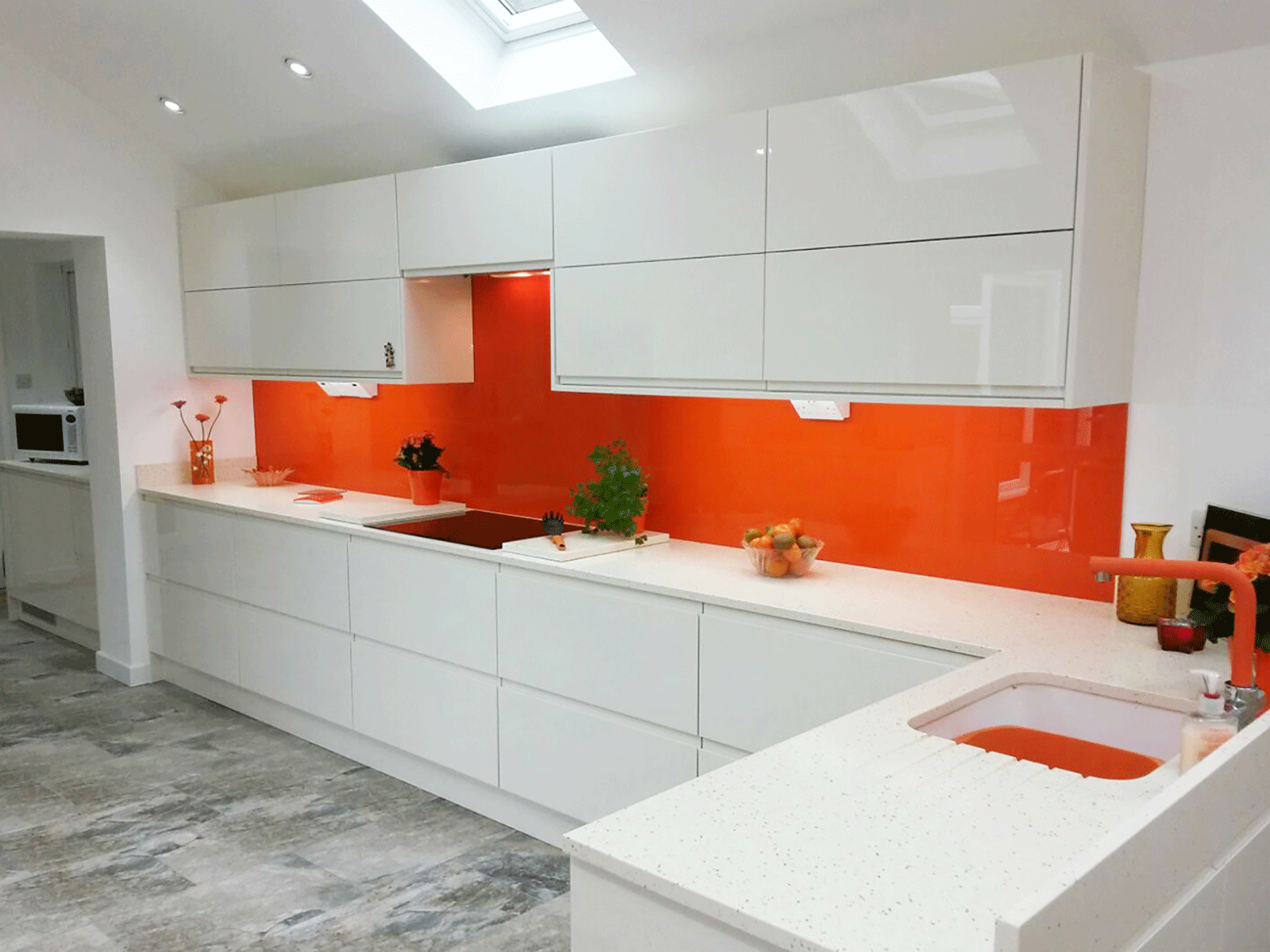 Vibrant orange with a pale
cream gloss
The stunning orange glass splashback perfectly complements this super clean handleless design.
This contemporary kitchen has the wow factor with flecked white worktops and the latest accessory and storage options.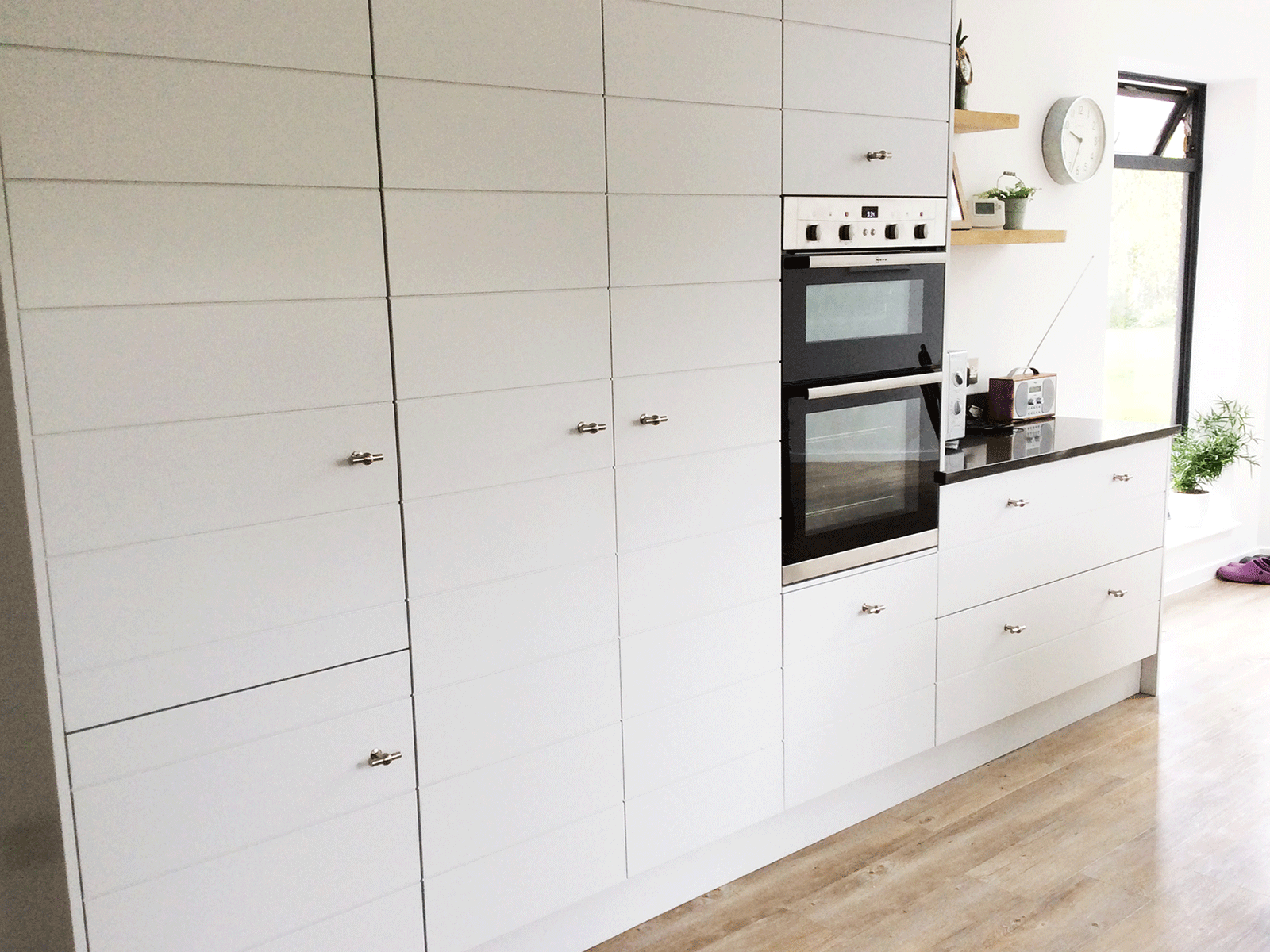 Bespoke design in Farrow & Ball
A beautifully custom-built door creates a strikingly bespoke designed kitchen painted in a Farrow and Ball colour, Dimpse.
The layout and design blend in beautifully with the home's interior and create a unique kitchen finish. Each door hides a surprise making this the ideal family kitchen.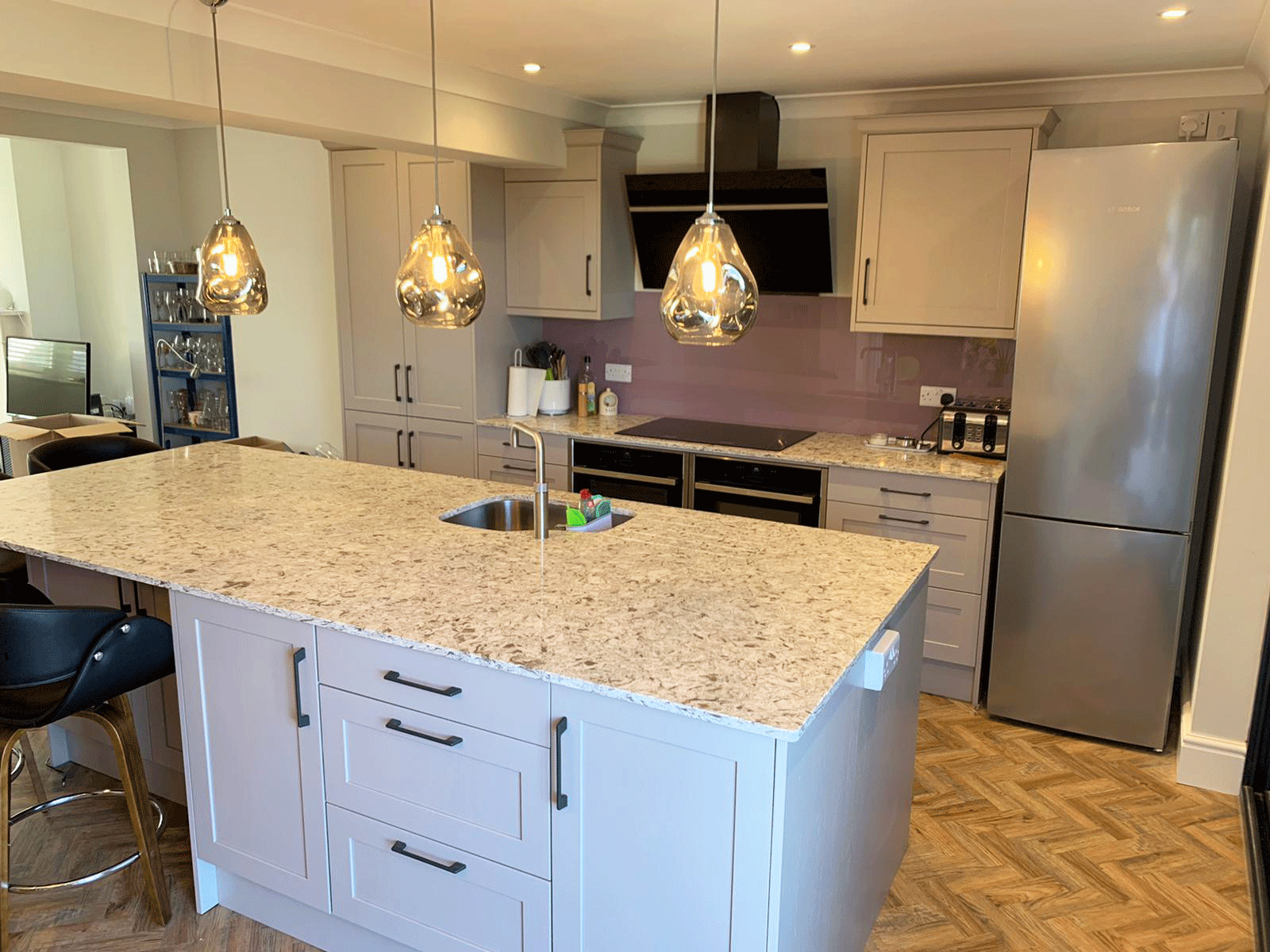 Traditional cashmere shaker door and
vibrant granite worktop
A truly family kitchen which invites all members of the family to gather together. The use of a traditional shaker door with the stunning granite worktop and lighting makes this a remarkable contemporary kitchen, with storage, worktop space and ample family seating.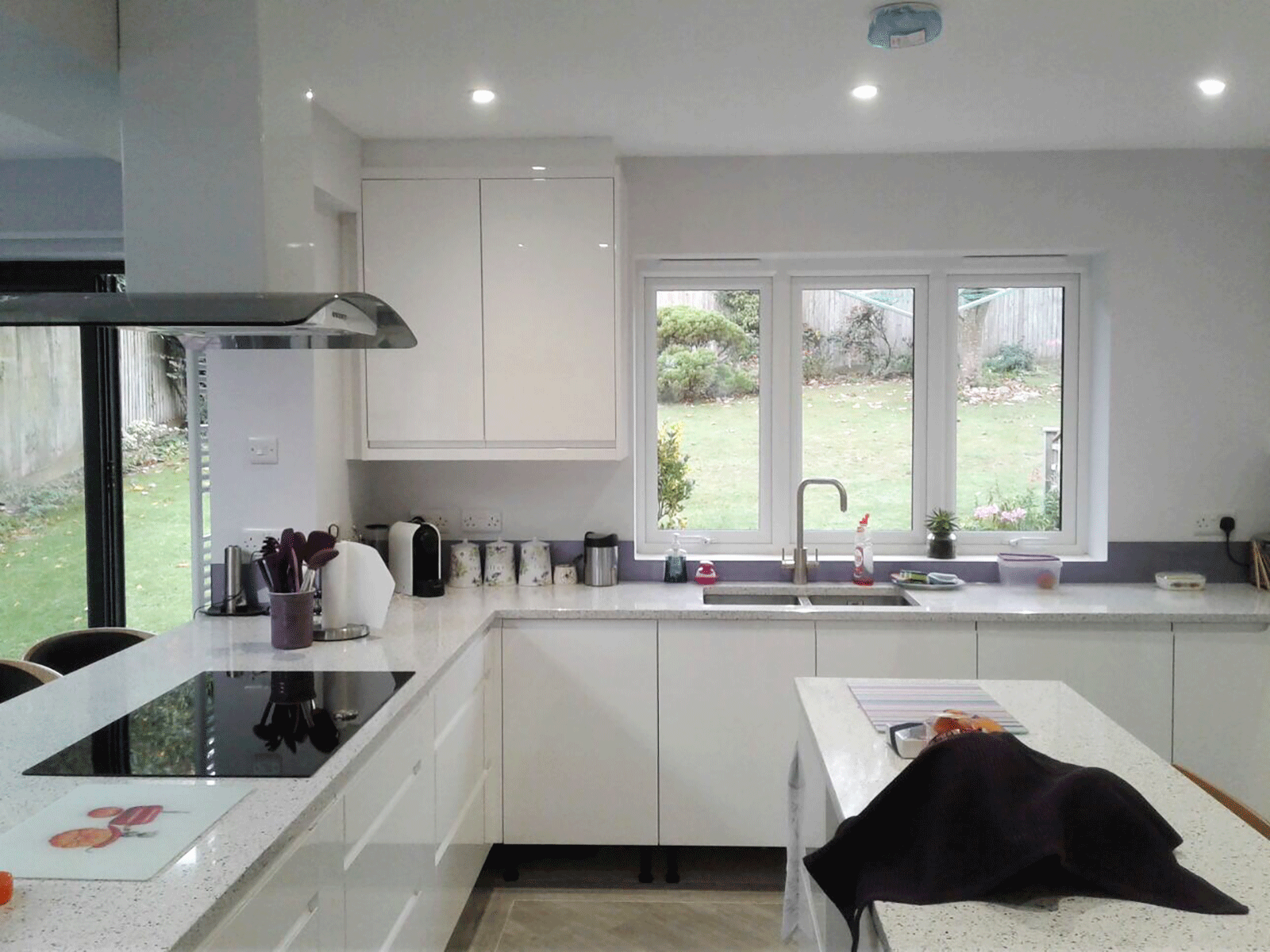 White with heather upstands and
white quartz tops
This kitchen has it all - cooking peninsular, preparation island, tall units, plenty of drawers, and it easy to use.
The colour combinations complement the shades in the open utility room, which is based on the heather upstands. The dark plinth combination produces an elevated appearance.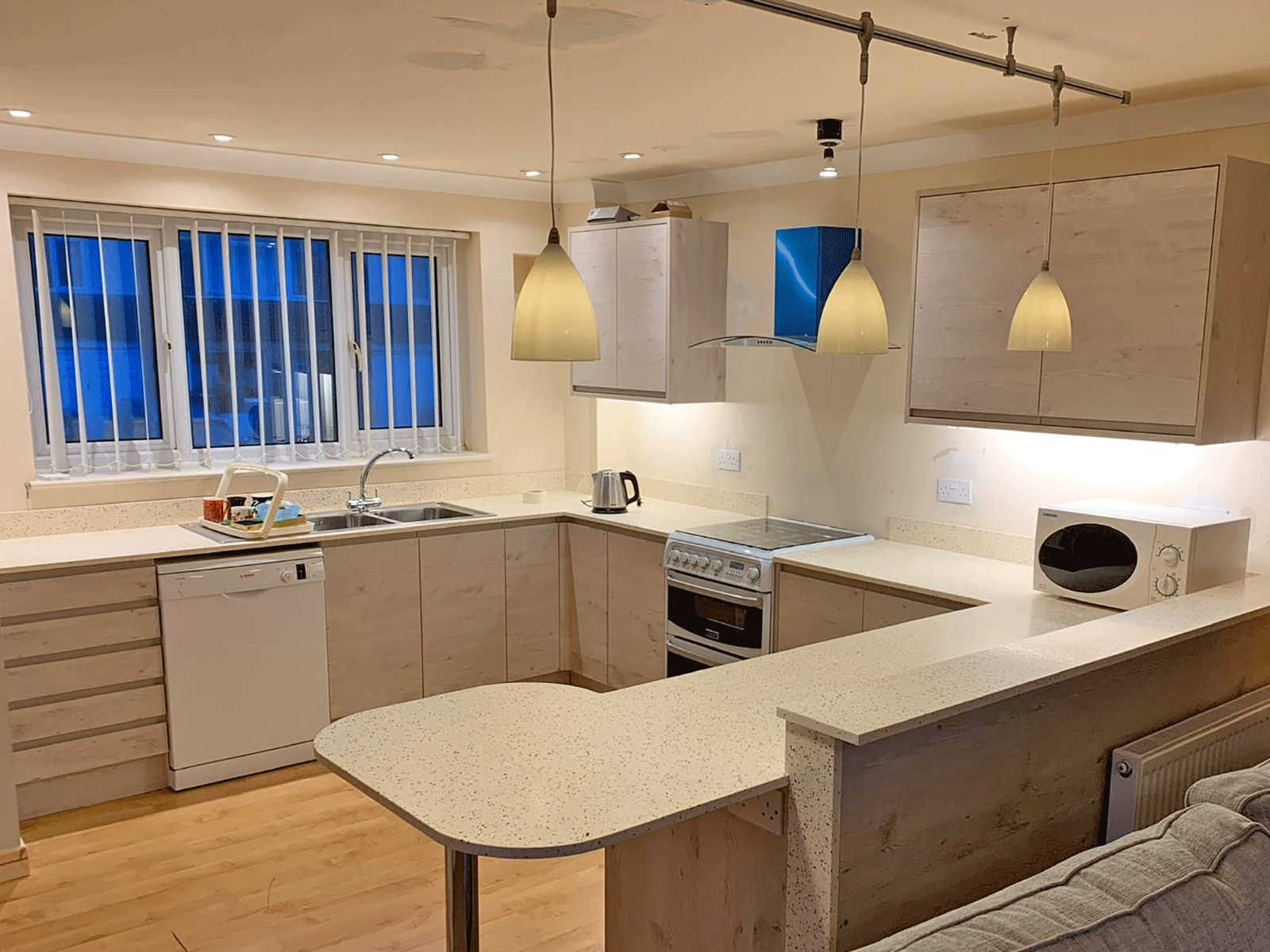 Driftwood with solid surface worktops
Inspired by the sea, this front room conversion with a driftwood handleless door brings hues of the beach and sea within the home. Using existing appliances, it still creates a haven of calm and tranquillity.
Space and seating were an important feature and this extends the secluded area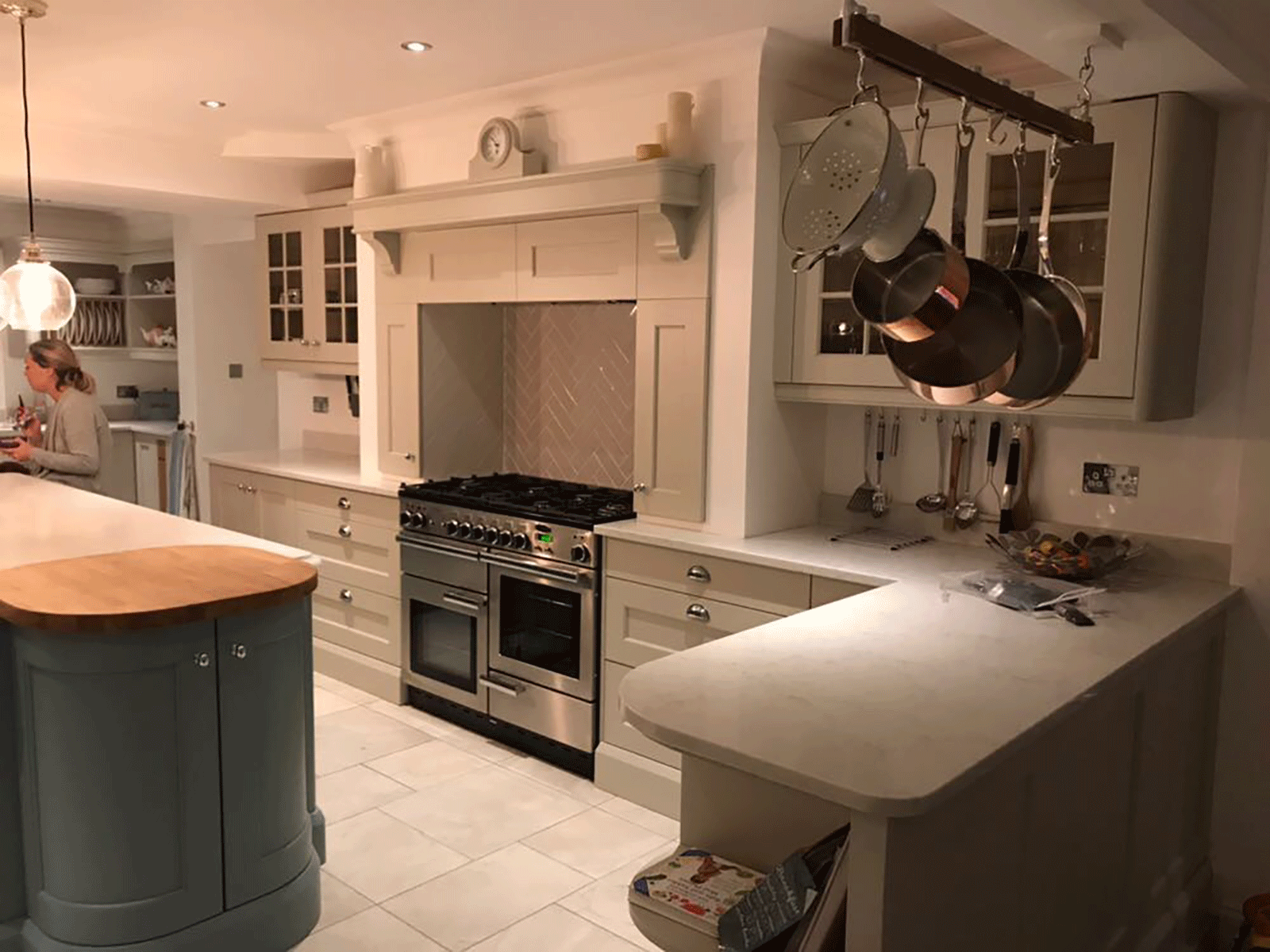 Mussel and fjord-blue
Edwardian style kitchen.
By knocking through a few small rooms, a great kitchen was created using two colours to give more depth and create a warm atmosphere. Attention for detail, such as profiled plinth and oak chopping boards, create a whole new feel for this kitchen.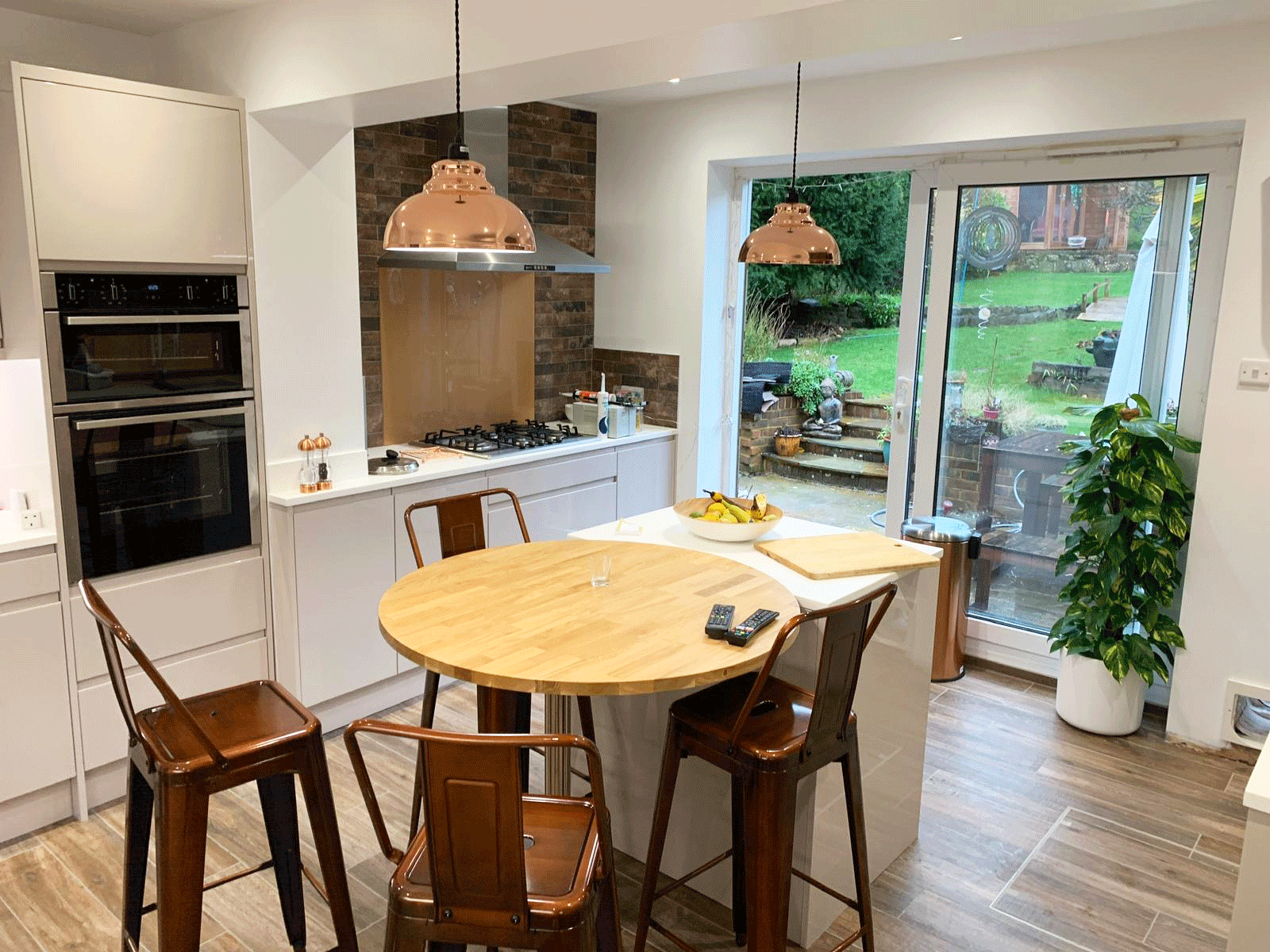 Combination of materials
Copper, brick, cashmere and oak combine to create this stunning kitchen, based on our customer's wish list
on how she would envisage the kitchen's use to make her dream come alive. Using her colour scheme, without being too intense, has really made this a warm, homely and very modern kitchen.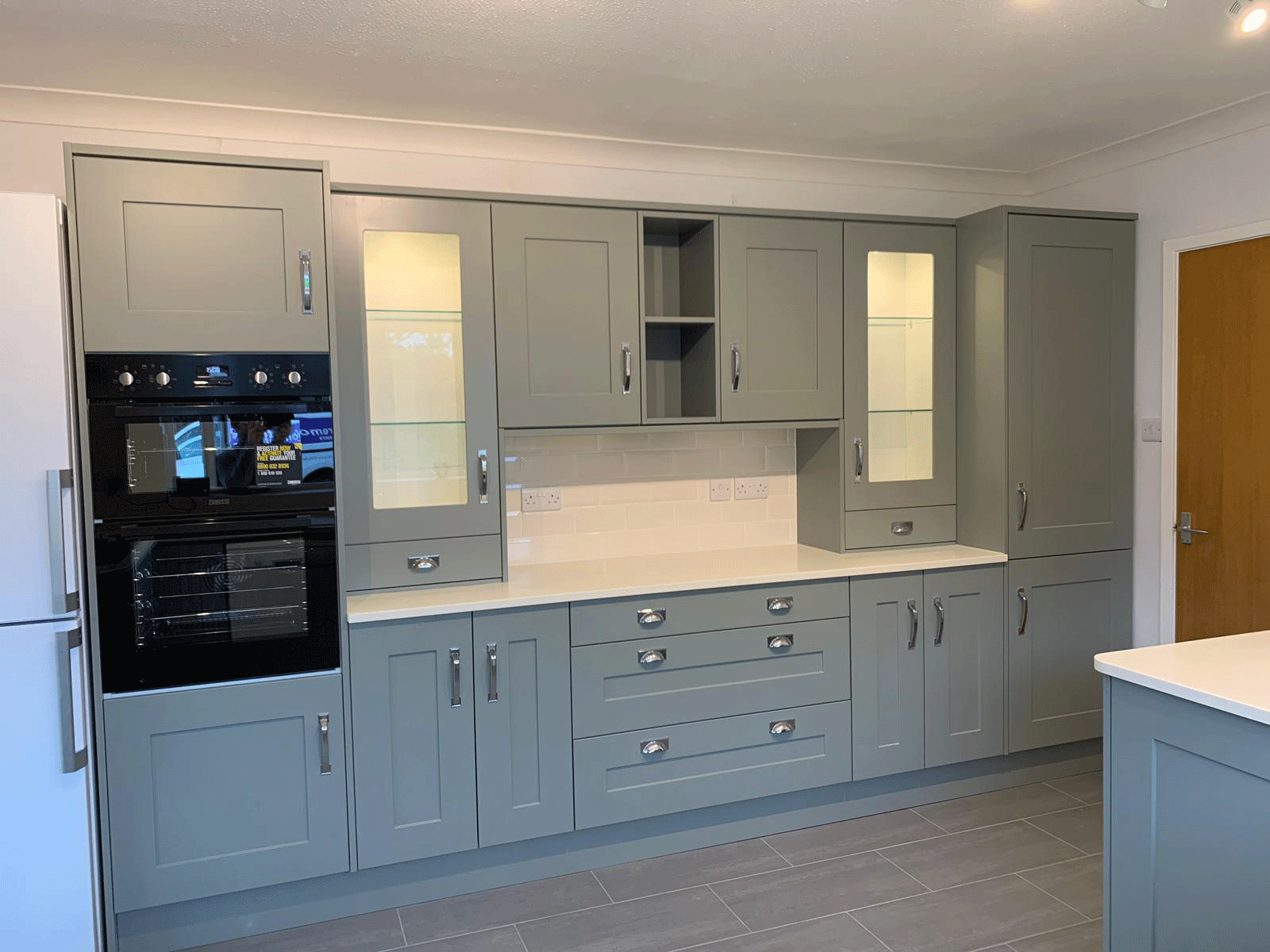 Farrow & Ball painted doors
with stunning worktops
We created this kitchen with Farrow and Ball Lichen painted doors and stunning mistral worktops.
Working with the client, whose previous ultra-modern kitchen was a high gloss grey with dark tops, he felt his new home needed a different colour. His choice completely compliments his new home and transforms the room. There is a seating area, a display area and a functioning kitchen which we designed and created with some slight manipulations of walls.
Selecting your own colour scheme will mean you will never tire of your kitchen.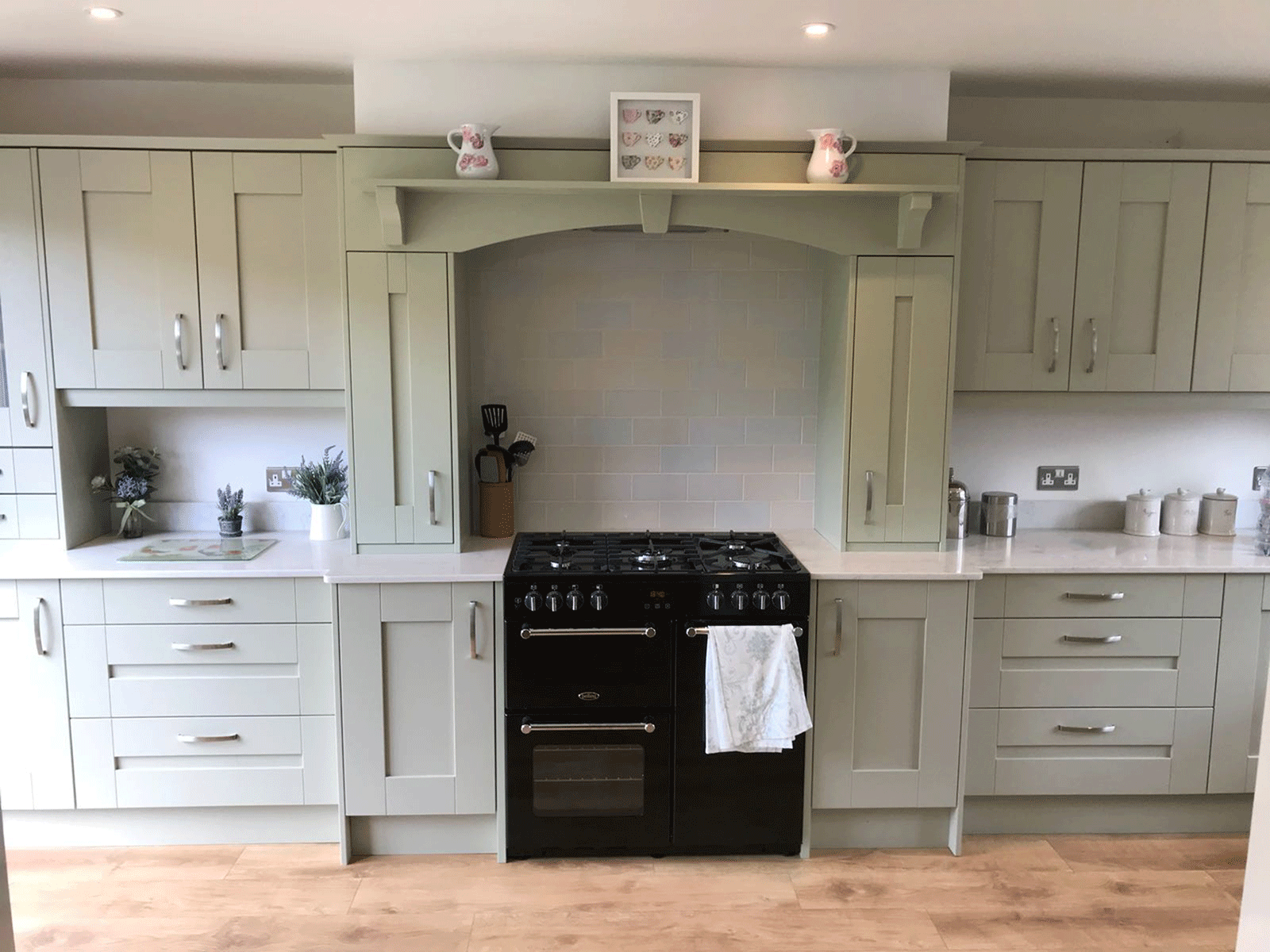 Sage green traditional kitchen
with marble worktop
Designing this kitchen was great as our customers were open to new ideas and designs.
The space started out as a tired-looking kitchen diner, and the area was transformed, and fully used to create this beautiful classical kitchen. The colour scheme, with the tiles and fine details, made this kitchen an outstanding showcase.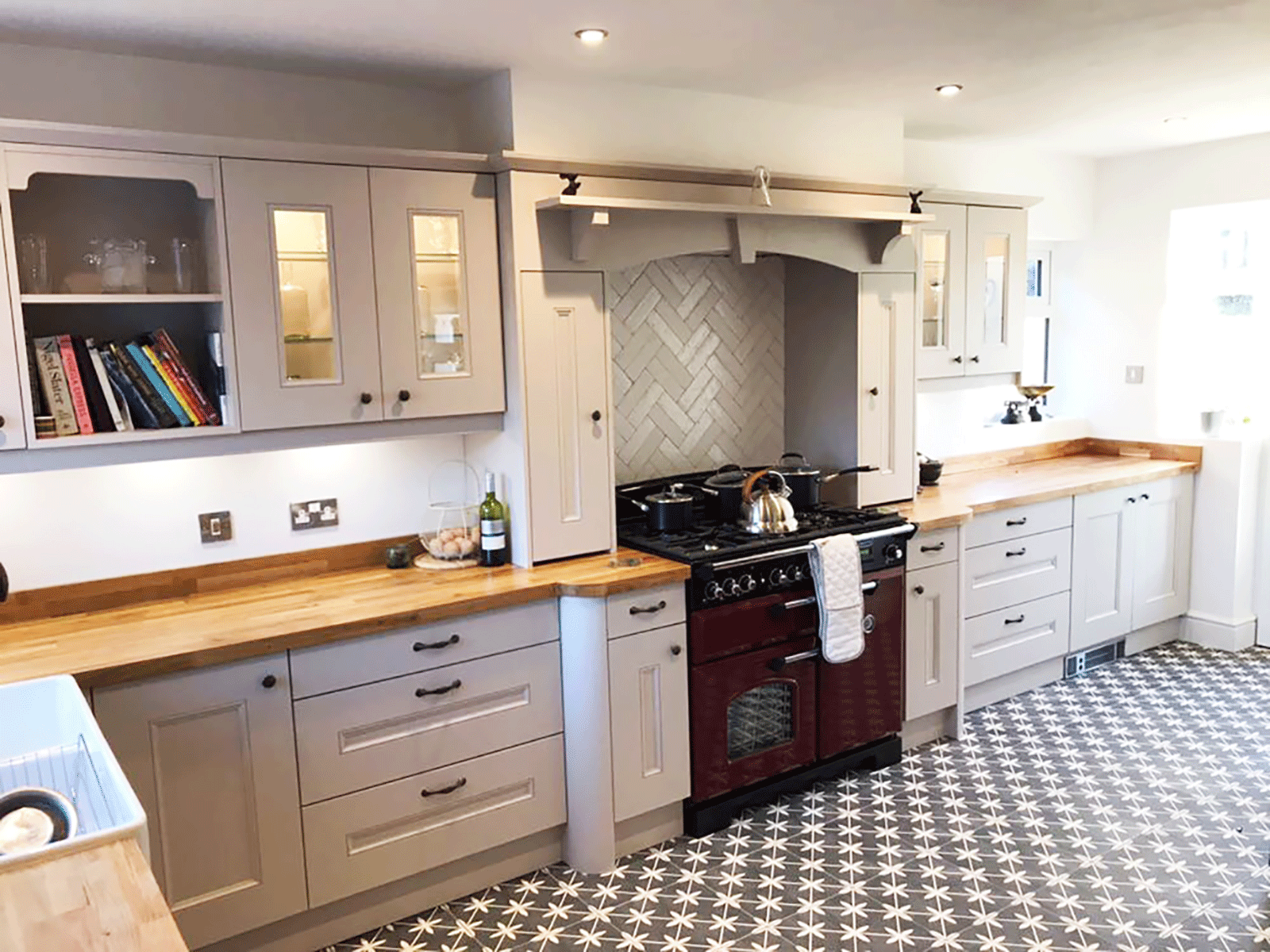 A beautiful colour combination
This stunning kitchen with mussel shaker doors is striking with beautiful real oak worktops.
It was designed for the customer who was seeking tradition and nostalgia. The whole concept started with the client's wish of a double butler sink and a range cooker. Working from that brief, the final design created a stunningly beautiful kitchen with timeless appeal.
Classic cashmere fitted wardrobes
A dark cashmere mock frame bedroom was created using all the space available with bespoke wardrobes to the height and depth of the recesses. We added a matching chest-of-drawers with radiused corners to bring the two wardrobes together creating a flowing feel.