Quooker taps – do it all.
There's absolutely no waiting with Quooker taps. You never need to boil a kettle – it comes straight from the tap. Making a coffee takes seconds – everything is easy, fast and better for the environment. Making a bottle for baby, sterilising equipment and heating baby food is much easier.
Hot, cold, boiling, sparkling and filtered water – all from one tap
The Quooker dispenses real boiling water – 100oC and with an energy label A, it uses less energy.
The tap is safe to use, and in combination with the CUBE, cool sparkling water and filtered water is also available straight from the tap. What a great addition to your new kitchen.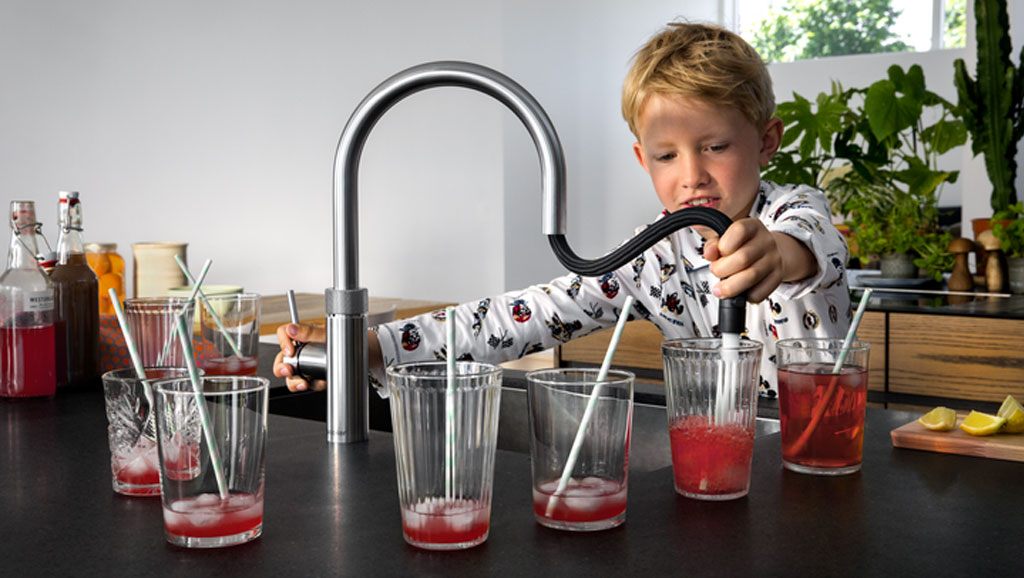 This is all down to revolutionary technology in the compact insulated tank which is fitted in the kitchen cupboard and linked to the boiling water tap on the worktop. The tank acts like a vacuum flask connected to the water mains. It takes very little energy (just 10 watts) to keep the water in the tank at 110oC, and it only starts to boil when the tap is turned on.
The Quooker CUBE is a system for cool filtered and sparkling water which comes from an extra tank in the kitchen cabinet. A Hollow Fibre filter purifies the water and a CO2 cylinder attached to the tank gives you 60 litres of chilled sparkling water.
Quooker taps are available in different designs, styles and finishes – ask us for more details.
Is the Quooker tap safe?
Boiling water needs treating with respect, so it's no surprise that the first thing that a lot of people ask us is whether it's really safe to have a tap which dispenses 100°C boiling water in a kitchen. What is sometimes a surprise to them is the realisation that it's actually much safer having a Quooker tap than a kettle in the kitchen. 
The Quooker tap is installed at the back of the worktop over the sink and cannot be pulled towards the front of the worktop. A kettle, once boiled, contains an average of between 1.1 and 1.7 litres of boiling water. If this is tipped over a person, particularly a young child, it can do serious, extensive and sometimes, sadly, permanent harm.
The Quooker tap dispenses boiling water in a steady flow in a spray format. The aerated delivery allows you to pass a hand through the flow without scalding yourself. Naturally, you wouldn't want to keep your hand in the flow of boiling water, but you'd snatch your hand away as soon as you felt the heat. What makes a huge and critical difference is that by comparison, you may get a few drops of boiling water on your skin or clothing but with a kettle, it would be much more.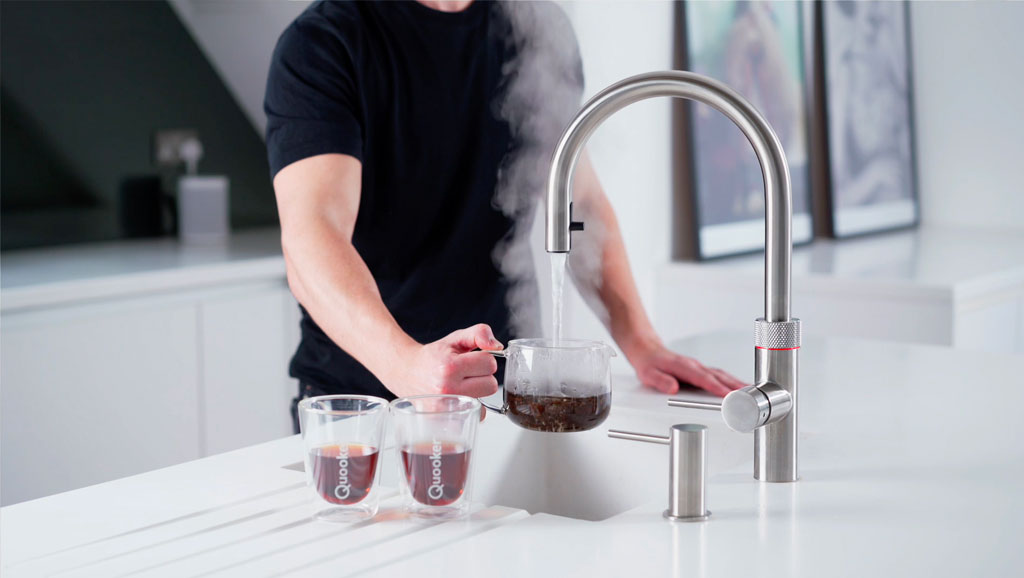 Can Quooker taps save me money?
On average a kettle uses the same amount of energy to boil a litre of water as it takes to run a fridge for about seven hours and in the UK we boil our kettle on average four times a day! In contrast, using a Quooker is a quick, efficient and instant meaning you use only what you need because the 100°C boiling water is there, 'on tap' which saves time, money, energy and water. 
If the water is in a tank, how fresh is it?
The stainless-steel tank with revolutionary patented vacuum insulation and thermos technology holds water under pressure (so it does not boil) at 108°C. Therefore it ensures that every delivery is fresh, sterile and removes the risk of harmful bacteria such as legionella.